Depression is tough. It can be all-consuming, and feel like there's no light at the end of the tunnel. But according to luminaries Russell Brand and Marianne Williamson, it doesn't have to define you. At Wellspring, these two leaders shared a stage to talk about how to keep your light shining throughout the darkness. Here's what they had to say.
If you had a heartbreak, a divorce, financial failure, bankruptcy, loss someone you love, these things are painful but they're not mental illnesses. What us, and that's why in that book I write, this is what Buddhism says, this is what the Old Testament says, this is what the New Testament says, AA or anything else you, that's why you keep coming back, because it's a rough day today.
It's recognized that it's a rough day today, it's recognized it's a rough day today and if you're left on your own God knows what your mind might lead you to do. So when you know principles, whatever your path is, and you practice them, so, you asked about myself, OK Marianne, and I've live through periods of time that, by any means today would be called clinical depression, but even that's such a scam. All that means is somebody in a clinic setting. There is no blood test, right, but if you've been there, you know it.
OK, Marianne, number one, you don't even think this is going to be done quickly. So none of this, like just, today people say, "Well your mother died a month ago, aren't you over it yet?" No. OK, it's going to take time. Number two, who are the safe people, who can accompany you on this? Who are the people who will bear witness to your agony during this time? What are the things that you're going to need to support you? Make sure you have a lot of bubble bath. Make sure that you stay with your meditation, even though you don't want to, stay with your prayer work. Make sure you show up for other people.
You will be, you will have a tendency to isolate during this period of time, you must not do that. You must get up and work, your subconscious will put aside your despair will you're showing up for other people. Then when you come back from that you'll go back to crying again. There is an art to navigating despair. There is an art to navigating depression and the spiritual principles lead us there.
There are seasons of life, I quote in that book from Rilke where he says, "Let me not squander the hour of my pain."
—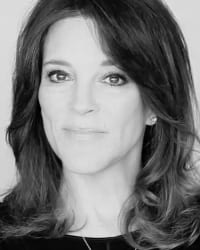 Marianne Williamson is an internationally acclaimed spiritual author and lecturer. Six of her 11 published books have been New York Times Best Sellers. Four of these have been #1. The mega best-seller A Return to Love is considered a must-read of The New Spirituality. A paragraph from that book, beginning "Our deepest fear is not that we are inadequate. Our deepest fear is that we are powerful beyond measure…" is considered an anthem for a contemporary generation of seekers. In 1989, she founded Project Angel Food, a meals-on-wheels program that serves homebound people with AIDS in the LA area. Marianne also co-founded the Peace Alliance and serves on the Board of Directors of the RESULTS organization, working to end the worst ravages of hunger and poverty throughout the world. According to Time magazine, "Yoga, the Cabala and Marianne Williamson have been taken up by those seeking a relationship with God that is not strictly tethered to Christianity."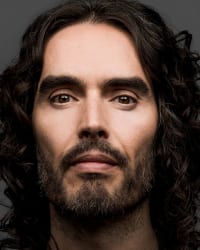 Russell Brand is a comedian, actor, writer, podcaster and addict. In recent years, Russell has become a recognized spokesperson on the subject of addiction and recovery: self-authoring two documentaries on the subject as well as releasing the New York Times Bestselling book, Recovery: Freedom From Our Addictions. This is 'the age of addiction', and in this talk, Russell will introduce the program that has saved his life. With a powerful mix of honesty, humor and compassion, Russell Brand tells his intimate yet universal story and shares the practical advice and wisdom he has been taught through his fifteen and a half years of recovery. He speaks to those suffering along the full spectrum of addiction―from serious, life-threatening misuse of substances, to the subtler habits we use to hold our lives together, like food, technology or unhealthy relationships. 'What pain is your addiction masking?' 'Why are you running―into the wrong job, the wrong life, the wrong relationship?' 'When are you going to recover the person you were born to be?'